Mint Condition: MJ Items Questioned
|
Michael Jordan's mother, Deloris, on Wednesday called into question documents being sold by an auction company.
Deloris Jordan said the items, which included two University of North Carolina recruiting letters, a diploma and her son's transcript, couldn't be originals because she has those documents in a vault.
"I know what I have," Deloris Jordan told ESPN.com. "They are all replicas. I just can't sit by and let these people say that they have what they say they have, when they don't."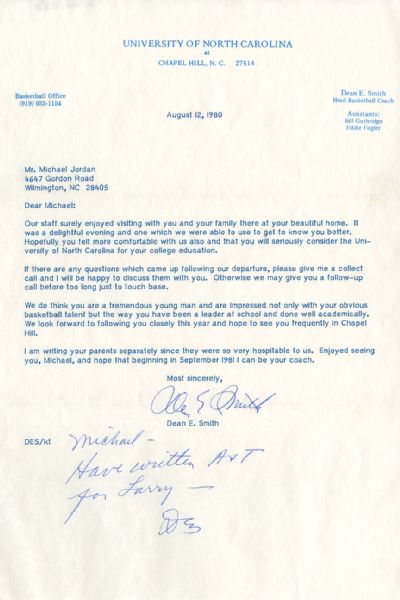 Goldin AuctionsThis recruiting letter from ex-
UNC
coach Dean Smith to
Michael Jordan
, which was put up for auction, is not an original, the former superstar's mother said Wednesday.
The company selling the documents, Goldin Auctions, said it obtained them from a consigner who had purchased the items from a person who bought a storage locker containing items once displayed in the now-defunct Michael Jordan's 23 restaurant in Chapel Hill, NC. The restaurant closed in 2003.
Ken Goldin, CEO of Goldin Auctions, strongly disputed the assertion that any of the items were not genuine.
Goldin said that both recruiting letters, one written to Michael Jordan from then-assistant coach Bill Guthridge and another written by then-head coach Dean Smith, were certified as genuine documents with genuine signatures by noted authenticator PSA/DNA.
"We stand behind our authenticators' opinion 100 percent that what the auction is selling is real," PSA/DNA president Joe Orlando said. "And there hasn't been anything legitimate presented that contradicts the opinion of our authenticators. I respect Mrs. Jordan's approach and concern, but unless there's evidence to the contrary here, it doesn't mean much."
The particular paper the letters Goldin says he is selling is Fox River Bond 25 percent cotton, a specialized stationary that he says was used during the early 1980s. Goldin said both letters exhibit the wear and tear of a 34-year-old document with original fold lines.
"I have no doubt that Mrs. Jordan has numerous recruiting letters in her possession that she saved from her son Michael, and likely many from the University of North Carolina," Goldin said. "However, based upon the above facts as well as the third-party authentication, we find it unlikely she has the originals of these two particular letters."
Goldin said the transcript has a date on it of Sept 27, 1999, which is the date it was ordered. It might be a duplicate, but it is genuine from the registrar at UNC at Chapel Hill, Goldin said.
Goldin said he confirmed with the registrar that the diploma, while it might be a duplicate, is also an original produced by the school. UNC allows its students to obtain an additional diploma, Goldin said, upon request.
Goldin challenged Jordan to produce the exact same letters. Goldin said if it could be proven that Jordan has the two genuine letters in her possession, he would pull the items from the auction.
For her part, Jordan said she feels she doesn't have to prove anything. She says she has saved all of her son's articles, possessions and accolades and is in talks to display them one day in a museum.
The diploma currently has a high bid of $8,250, while the letters from Smith and Guthridge have high bids of $11,794 and $2,500, respectively. The transcript has a high bid of $1,000. The auctions close on Feb. 7.